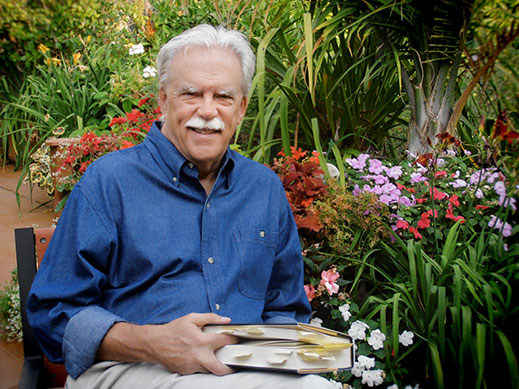 Learning Twice
A
s with most creative writers, my life is founded on the magic of the written word. Since my early twenties, I've published poems and essays. So, like most professors in
Cal Poly
's
English Department
, I have a healthy obsession with literature. For me, there's no better job than teaching on the college level because I'm continually instructed by two primary sources: my students and my favorite pieces of literature. The act of teaching teaches me just as every literary work I teach teaches me. Perhaps such simultaneous discovery is in part what French writer
Joseph Joubert
had in mind when he said, "To teach is to learn twice."
As most students know, sometimes a class discussion can take off, and both the professor and the students find themselves fascinated and learning more than they expected. That exciting give-and-take is what I hope to achieve every time I facilitate discussion. Of course, I can't guarantee such intense classwide engagement every day, but that's the goal. During literature classes, I lecture about 20 percent of the time, and the rest is dedicated to classroom conversation.
Good conversation requires wide participation, and, to that end, I teach Socratically. That is, I ask students direct questions about the literature and how it relates to their lives. I learn every student's name, and I do my best to hear from each student at least once during class. By talking about real-life issues embedded in the poems and stories, I hope students will learn to explain what a literary work means and how it communicates that meaning.
Living is surely a subjective enterprise. And since literature is about the way human beings attempt to overcome impediments to happiness, then the interpretation of literature is also, by definition, subjective. (Poet Eavan Boland says, "Poetry begins where certitude ends.") Differing interpretations may certainly coexist, though there are thematic boundaries. Yes, sometimes students can propose interpretations that may not ring true, but during our conversations I try to create a safe environment for speculating on what a literary piece may mean. For it's in the conversation, the point and counterpoint, the slow building of intellectual consensus or the sudden brilliant burst of classwide understanding that I find myself enlightened at least as much as my students. I discover that the literature under question has yet something more to reveal while the students have shown me something about my own assumptions. When I think back on all the great teachers I've had, I realize this: Teachers who model their own ongoing process of discovery help students to learn anew virtually every class.
Leaving the Lesson Open
Let me borrow from a friend to explain further. In his brilliant book Spitwad Sutras: Classroom Teaching As Sublime Vocation, my colleague Larry Inchausti describes a critical moment of realization in his early years as a high school teacher. Confounded by the experience of standing at the head of the class and being struck between the eyes by a spitwad, he seeks the counsel of an older, mentor teacher. When Larry explains that he had lost the respect of the class, that he didn't know what to do, the mentor convinces him to turn to the class.
"Tell them the parable of the teacher who got hit between the eyes with a spitwad. Ask them what it means." Larry suddenly relaxes. "The trick was in providing a link between what the students were feeling and the lesson at hand, and then giving oneself over to the messy process through which that link is explored, expounded, and finally understood. To do this, however, required that you take a risk, leave the lesson open, discover its meaning as you proceeded."
In the classroom, I hope to "leave the lesson open." There are certainly times in a course that I must simply convey information, usually by straight lecturing, but these are infrequent. Whether I'm teaching literature or poetry writing, I hope my students and I will discover meaning as we proceed together. Rare is the professional pleasure anyone may receive like that of the professor whose students have been transformed by the powers of their own thought. When, in an instant, a student's face turns from the look of contemplative inquiry to deep realization, the professor and student experience a kind of appreciative pleasure that manifests the privilege of college learning.
On Creative Writing Classes
Learning is not simply a matter of acquiring facts; it is a process of learning how to process, how to synthesize ideas and—in the case of literary art—how to make words move a reader in visceral and cognitive ways. For such learning to occur, a safe environment is a prerequisite. My poetry writing class is taught as a workshop in which students share their own poems with their peers. Generally, I dedicate three class hours per week to discussion of student poems and one hour to published poems that are assigned as weekly reading. I try to create a friendly atmosphere in which helpful praise and suggestions—offered both by me and the class—can assist the student poet in becoming a better writer. As in my literature courses, I learn the names of all students and try to hear from every student during each class meeting. I think familiarity between students as well as the intensely penetrating nature of poetry often lead to great class camaraderie. Indeed, many poetry writing classes seem to develop highly supportive and empathetic interactions, just like a good family. While about half of my 300-level poetry writing students have been English majors, the half who are non-majors also enjoy the creative esprit de corps. Poetry is an option for all.
One of my goals in the poetry writing class is to help students enhance what is idiosyncratically best in their writing while trying other creative directions. Not only do all students write poems, but all learn to discuss poems by their peers as well as those by published poets. Students surely learn how to explicate, but the act of writing places them inside the process. Just as art history students come to better understand the nature of visual art by taking a studio class, creative writing students come to learn intimately the relation between a poem's meaning and its techniques by practicing verse exercises (ie., by writing poems). As students proceed to write their own poems and examine the poems of their peers, they discover the myriad facets of the creative act.
Upper Division & Graduate Courses
I organize my senior and graduate-level literature and creative writing courses in seminar and workshop formats respectively. In these classes, I anticipate a more practiced analytical skill. Ideas are more quickly synthesized, papers more penetrating, poems more polished. But I still strive for the same exhilarative classroom moments that take place when any professor finds a way to keep the process open, to learn in two ways simultaneously.
A Note on the Workload
Literature Classes
Depending on the course, students will read many poems and short stories as well as a few essays, but the amount of reading is not burdensome. (Because teaching a novel takes up large blocks of time that could be spent on other provocative works, I rarely teach novels.) In any 300-level English class focusing on literature, students are required by policy to write a total of at least 3,000 words (400- and 500-level English classes require more writing). I usually assign three essays that run approximately 500; 1,000; and 1,500 words in length for a total of 3,000 words. While essays in general-ed courses focus on explicating poems and stories, essays in senior and graduate-level courses usually involve greater complexity and nearly always require secondary sources. I generally give three to five Scantron tests. Attendance is expected.
Poetry Writing Classes
Over the course of the quarter, students write eight to ten progressively more complex poems. Citing numerous model poems as formal options, I provide many poetic exercises to choose from. I do not grade individual poems. At the end of the quarter, students revise seven or eight poems of their choice for submission in a portfolio to which I assign the largest portion of their final grade. Students also write one 500-word essay and take three to five Scantron quizzes. Attendance is expected.