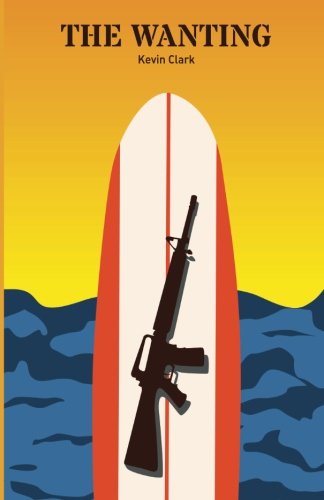 2016
F
IVE OAKS PRESS:
Did you serve in Vietnam? What were you doing during that time? What is it you remember most of all about that historical era?
KEVIN CLARK: I consider myself fortunate. My lottery number was 202. The army drafted up to 195. I was a junior at the University of Florida, where I'd gone to run track. The sixties diverted me away from track and on to all the issues of the day. Politically, I most remember Bobby Kennedy's assassination and then Watergate. Personally, I was swept up in the counterculture.
FOP: Are any of the events in The Wanting based on things that happened to real people?
KC: I think both Eliot and Stevens said that all writing is autobiographical.… But no, not really. While I've done a lot of research on the war and have known several Vietnam vets, I made up the main character Jesse and all the events in the book.
FOP: Have you written anything else about the Vietnam War?
KC: Yes, in the early nineties, I published a long poem titled "The Sky" about Harry Stanley, the soldier who refused Lt. Calley's order to massacre the villagers at Mai Lai. My son Joe is an actor and together we also wrote a play called Brick's Last Call, based on four Vietnam vets now in their sixties who gather together once a week for coffee. Needless to say, secrets abound and the dialogue goes from comic to explosive.
FOP: Tell us about how the form of your poems here says something about the emotional or psychic space you are creating. Why the spaces? Why the tercets?
KC: I was trying to create a form that rendered Jesse's extreme difficulty at maintaining his sanity. As we discover, his wife loves him but can't live with his PTSD. So I hope the form is both rigid and chaotic, like his inner life. Almost every line of every poem is in ten-beat syllabics. Every stanza is three lines long. But there's no punctuation. Visual caesurae provide forced pauses as well as blank moments. While keeping the narrative immediately accessible, I wanted to run disparate thoughts suddenly against one another to suggest Jesse's unsteady mentality. My decades-long poetry advisees Wendy Barker and Hannah Stein were relentless in helping me shape the style.
FOP: Was it hard to work in all the military terminology?
KC: In some ways, it was freeing. I wasn't writing about my own life anymore. As I was working on these poems, I read Karl Marlantes's long and brilliant novel about Vietnam titled Matterhorn. Long ago, I'd read Tim O'Brien's classic The Things We Carried. And plenty of other prose and poetry about the war. For years, I've taught Yusef Komunyakaa's Vietnam poetry. I was familiar with some of the terms, and I periodically went to online sites about Vietnam War glossary. That's where, for instance, I'd discovered the term "double vet."
FOP: There are several religious references. How do you see them working in conjunction with the setting in Vietnam?
KC: Anyone who goes to war has to confront mortality. No hiding from it. Most soldiers ask themselves questions about god and the afterlife … but Jesse has gone through extraordinarily difficult experiences he can't shake. He's married to a religious woman, but his parents were nonpracticing Protestants. At various points, Jesse wonders if god is real, if god is Jesus, if god can be found in the ocean—or even in women. I confess to having had similar thoughts.
FOP: What role do women and sexuality play in The Wanting?
KC: For decades, I've been fascinated by the poetry of Eugenio Montale. While Montale believes human beings are doomed to end civilization, he expresses a spiritual and corporeal love for a phantom, idealized woman who represents a kind of perfected but impossible redemption. As I say, Jesse looks for something spiritual to save him, and women might be his answer. He holds women in highest esteem. When he was young, his girlfriend offered a near otherworldly peace. The mother of his friend Zips seems to stand out in his memory as an ideal of sexual sanctity. He nearly attains this state with his wife, whom he loves deeply, but his PTSD prevents him. Thus, the title.
FOP: You currently live near the California coast. Are you into surfing? You include it as a theme in the book.
KC: I grew up in North Jersey, and we played ball, never surfed. By the time I'd moved to California in my mid-twenties, my knees were shot to ruination from sports and unkind genetics. So I never attempted surfing or skiing. That said, I lived on Pleasure Point in Santa Cruz for a year, and I watched the surfers every day. Their moments on the waves seemed to me a devotional practice. I have many surfing friends. Jesse grows up as a radically gifted surfer who lives near The Wedge, an extremely dangerous surfing spot in Southern California, and he becomes famous there for a daredevil accomplishment on his board. I've been to The Wedge. It's an astounding if gut-wrenching place.
FOP: Will you continue to write poetry that tackles the major themes in this work? What are you working on now?
KC: I'm working on a verse novel, and the Jesse poems comprise a big part of the project. It focuses on three characters, all of whom consider larger questions about sexual intimacy and spiritual existence. They want to know whether or not answers exist. His wife challenges god and finds an answer. But for Jesse, well, who knows?