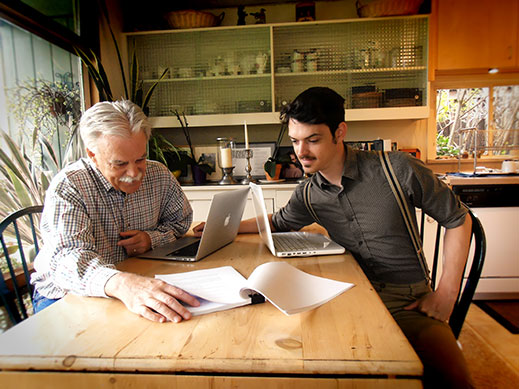 Brick's Last Call
Play Summary
C
owritten by Kevin and his son, Joe Hewes-Clark, and set in central New Jersey,
Brick's Last Call
is a full-length play that tells the story of Brick, a funny but argumentative war veteran who is privately wracked by a decision he made in Vietnam as well as by the recent mysterious death of his older son, Johnny, in Afghanistan. Over the course of two acts and four scenes, the play explores the manner in which unspoken truths from the past seem to take on a will of their own, as if their revelation were always a certainty.
After returning from Vietnam, Brick joined three close friends from high school to play ball before heading to their favorite bar, where he made a fateful choice only one other person knows about. Now the bar is a café where the four semi-retired men meet weekly for comic bantering about war, sports, art, sex, marriage, and masculinity. The play renders the way heterosexual men often employ crude language and gritty wit to express love of friends while negotiating their own homophobia. The café owner—a middle-aged woman also harboring provocative secrets—offers a countering point of view throughout the play. The action rises to a tense climax when Brick invites both Tim and Leo, an African American vet who knew Johnny in Afghanistan, to the café.
The father-and-son team collaborated on the project over the course of a year and a half, communicating primarily on Skype. Joe Hewes-Clark is a playwright, actor, and visual artist living in New York City. Having studied theater at Fordham-Lincoln Center and CCNY, Joe has worked in many stage and short film productions, including Insomnia 8:00AM, There Will Be Snacks, and Polaroid Stories.
Should anyone be interested in staging the play or learning more about it, please contact Kevin to make arrangements.