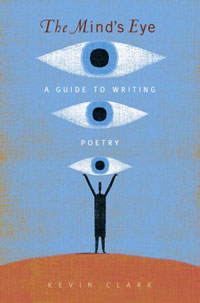 College Textbook on Contemporary Poetry Writing (with Sample Syllabi)
Buy at Amazon
Buy at Publisher
Description
F
eaturing a progressive gradation of writing exercises, 
The Mind's Eye
 guides students through a variety of discussions and prompts designed to give them fluency in the major aspects of contemporary poetry writing: imagery, sound, implication, conflict, the lyric (and lyricism), structure, portraiture, narrative, sequencing, surrealism, and other facets of the discipline, especially revision. Built on the author's three decades of creative writing pedagogy,
The Mind's Eye
:
recognizes the foundational importance of imagery as well as sound in contemporary poetry
coordinates a flexible sequence of chapters with a typical fifteen-week college semester (while also adapting easily to a quarter system)
is the easiest poetry writing book on the market to adapt to a syllabus (see the sample syllabi for both the semester and quarter systems)
is written in clear, active prose that instructs without condescension
provides a wide variety of many model poems by a dramatically diverse group of contemporary poets
offers numerous writing exercises that proceed progressively toward greater complexity
features The Poet's Note Card, a concise summary of main ideas at the end of each chapter
recognizes that most poetry is written in free verse today while offering an enthusiastic discussion of traditional form, even providing a template for the sonnet
reduces anxiety about writing on difficult topics, including mortality, eros, religion, and politics
promotes usability in its compact, handy size
provides information on how to form friendly poetry writing groups, arrange and give poetry readings, and publish poems in journals
sells at a lower cost than most other textbook options, thus allowing professors to assign additional volumes of poetry without burdening students economically.
From College Professors
Kevin Clark is as passionate and knowledgeable about teaching as he is about poetry, and his obvious connection with real-life students makes for a text that is not only lively but also practical and inspirational. This is the perfect guide for introductory undergraduate courses in writing poetry, and it will be just as helpful in advanced workshops.
Just wanted to leave you a note in gratitude for The Mind's Eye, which I am assigning to my first poetry workshop this spring. As I've sat down to create a course outline, I realized how much of craft is taken for granted, how much we have to learn when we're just starting out. I've had to retrace my steps into poetry, and your book has been invaluable for plotting the arc of what will hopefully be a successful workshop.
From Students
After reading The Mind's Eye by Kevin Clark, I was comforted by the fact that the author was so straightforward and knowledgeable about the art of poetry. Throughout the first reading, Clark offers a lot of reassurance to those who are just beginning to write. The structure of this book seems to flow very smoothly, and since the author addresses most every question, I think this course reader will be very beneficial to the class.
Just by reading the Preface, Introduction, and Chapter 1, I can tell that I really like the ideas that Clark presents and I feel that it is written really well. I look forward to working with this text to assist me in my poetry writing throughout the semester!
I love that the author of the book is someone I can relate to. Clark states that "a poet must paint a picture in the mind's eye of the reader," a statement that I agree with (xii). I also love that the book is written specifically to follow the school year and is easy to follow. Rather than focusing on his own accomplishments, he acknowledges his progress and gives credit to his past instructors and peers. This makes him both credible and friendly.
I am so excited by this book. It is easy to follow, and the Poet's Note Cards are a wonderful help for little, yet important, hints and ideas.
I feel as though the Appendix is going to be the biggest help outside of the class. I really enjoyed reading about the different ways a person can bring poetry into their life as a commitment instead of just a hobby.
Everything Clark mentioned in the first chapter was extremely encouraging and lifted the anxiety I have felt about writing poetry and understanding how to begin.
First off, I appreciate that Kevin Clark had the forethought to emulate a 15-week semester in his book. This makes it very easy to use in a classroom setting, especially an online setting. I also appreciate that he made a special point of making his book informative and not condescending. I found that extra care that he took to be very important to my reaction as a reader. I have been burned in the past by stuffy poetry books written by pompous authors that I could not relate to, and so my first inclination when reading a new textbook is to assume that it will be dry and lifeless. Clark's sympathetic approach to the university student's situation made me more willing to read the rest of the book and excited to see how he was going to explain the art of poetry.
Featured Poets
Some of the poets featured in The Mind's Eye:
Sample Syllabi
Author's Note
The Mind's Eye is organized to be quite flexible. Instructors will find the text can easily be adapted to introductory poetry writing classes that run for either a semester or quarter. Above you will find syllabus templates for each. But the template is meant to be just that—a guide you can use as much or as little as you like, adjusting for factors ranging from your own aesthetic and pedagogical preferences to scheduling academic holidays.
These sample syllabi are designed to guide students through reading and practice in increasingly complex aspects of the art: imagery, sound, implication, conflict, transformation, structure, portraiture, narrative, sequencing, traditional forms, and many other facets of poetry writing, including specific approaches to revision.
The syllabi keep students active. Each week, students complete one segment of ideas, techniques, and exercises and then move on to a new set. As the course proceeds, they submit new poems on the first class meeting; they begin reading for the next week's assignment by the second class meeting. Instructors can workshop for much of the two classes, reserving time during the second class meeting for discussion of the reading assignments and upcoming exercises. The syllabi designate when students should copy poems for class or when they should submit them exclusively to you. Depending on the speed with which you prefer to discuss poems in class, you may wish to adjust those instructions, but I highly recommend students copy their poems following the exercises in Chapter Four, which is often a breakthrough chapter for students.
Some instructors like to supplement The Mind's Eye with anthologies or single author volumes. The sample syllabi suggest selections from Contemporary American Poetry, a Penguin Academics anthology edited by R.S. Gwynn and April Lindner and published by Pearson Longman. Each of the poems models techniques or themes discussed in the corresponding chapter of The Mind's Eye.
The syllabi are designed for an introductory poetry writing course, but The Mind's Eye is extremely helpful in an advanced poetry writing course for undergraduates as well. When I teach such a course, I start with Chapter Four. While I require that advanced classes read The Poet's Note Cards in the first three chapters, I still call for roughly one poem a week from students. I often make the specific writing exercises in all chapters after Chapter Four optional.
Please feel free to copy and paste either of these syllabi for your classes.
Here's to sublime workshopping …