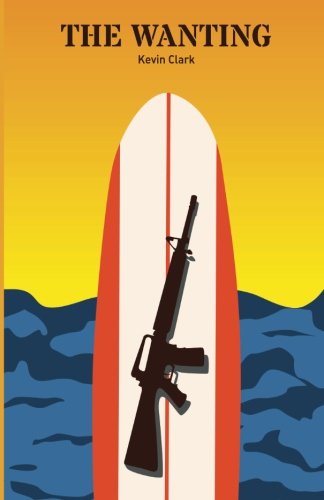 Winner of the 2016 Spring Is the Mischief Contest
Published by Five Oaks Press
Buy at Amazon
Description
W
inner of the Five Oaks Press chapbook prize,
The Wanting
is Kevin Clark's hardscrabble poetic sequence about war and its effect on marital love. Immersed in the grit of war as well as the essentia of love,
The Wanting
offers a sequence of lyric narratives rendering the psyche of a former long-range reconnaissance infantryman who finds temporary solace while surfing. In poems recalling the persevering enemy as well as menacing members of his own platoon, frightened villagers, generous friends, fellow surfers, and his loving wife, he examines the inner demons that threaten his once-ideal marriage.
The stunning achievement of Kevin Clark's The Wanting insists that it be placed on the bookshelf alongside Stephen Crane's The Red Badge of Courage. This sequence of poems sets forth a vision of the American warrior so vivid, disturbing, and compelling that it could be realized only by an artist of extraordinary empathy, depth of psychological, historical, and cultural understanding, and absolute integrity. The truth of the Vietnam War has never been set forth more devastatingly.

—David Huddle
Sample Poem
Whoever You Are
Swear words are like instant cortisone shots
All of us need the pain to stay up
I learned quick from the older guys floating
the calm between sets The perfect statement
of each word in stoned exhalation
was like some irreverent Zen practice
offering infinite license That's where
I learned how to tell stories about women
One day at Zips' house his father came home
late honked from the street then Zips' mother just
slipped out a smooth slide into the front seat
Johnny Mathis' "Chances Are" as loud as
the 4-barrel on that blue Impala
The one I'd worship in a fast few years
I asked Zips where they goin' he just shrugged
said no one knows they won't be back not till
the weekend Ike and I've got a gruntload
of frozen food to cook Want some Later
in Nam we all had to swear with mortal
devotion because if not you'll die in
some fucking firefight you fucking faggot
said the sergeant to every FNG
I don't any more It was as if some
ghost rose from the unspeakable vapors
of the jungle floor angelic silent
floating dead center in my line of sight
Who are you I asked her arms like warm water
her words in my head before she vanished
So I came to know that way of talking
is a sin against the man we're always
waiting to become Humping mud outside
Da Nang I made no sound when the flash
cauterized my eyelids I thought
I'd gone blind from the good light of the lord
But that's a lie too what I told myself
I dropped to muck hugging myself groping
for the shard that must've split my ribs freaked
silence I couldn't hear a single round
Later another grunt laughed sideways told me
I was tearing at my shirt like I'd rolled
through black ants I never once thought
of my own parents white Pacific sun
flashing off the ocean through the giant
plate windows face gone red as he slams
down cold vodka she slouched in her soft chair
and dreamed at him like his was some foreign
face of the man she married I'd step back
Then feel myself drifting into shadows
as if they'd not seen me Then the drop
into good weed till I'd dream Whoever
you are I'll do anything if you'll
stay with me I played that same slide show
The one I watched as dark shut down the night
a half instant before you held me alive
I described Zips' mother while every guy
stared shoreward as if they'd heard it all But
I knew they listened like it was poetry
Like it was god An oceanic moon
lighting the world A cream skirt slowly
riding up her legs Then that long lean across
the seat for the kiss Finally her fingers
in his hair Then sure as the car his black
eyes aimed straight ahead And that's how I left
it nothing more No need Clean waves or
choppy we all knew that one center line
was a map to the last best promise on earth
---
Note:
FNG: fucking new guy