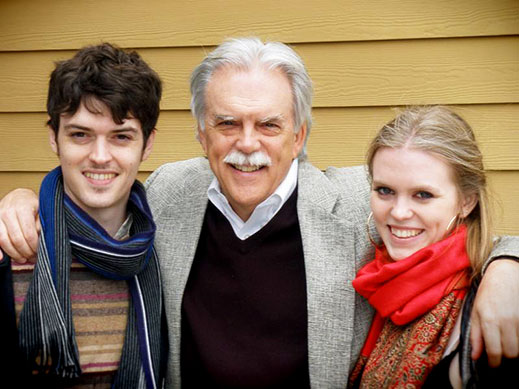 January 13, 2010
by Glen Starkey
N
EW TIMES:
First, I don't think I've ever had as much fun reading poetry as I have with this book, especially in the first section, which depicts a rip-roaring, bumbling stumble through the '60s and '70s.
KEVIN CLARK: Thanks!
NEW TIMES: In this section, you reveal a very youthful, human side of yourself. My question is this: You dedicate this book to your children Joe and Hannah, who are both, I believe, in their early 20s; are you freaking nuts? Do you really want your kids to know the shenanigans you were into? And what of your impressionable Cal Poly in San Luis Obispo students? For shame!
KEVIN CLARK: Yeah, we joke about that. Hannah says she wants to wait before reading all of my poems. She tells me her college friends like "Flashback at Castelfranco." On the other hand, Joe, who is an actor, performed the title poem as a one-act a couple of years ago. Both my kids are pretty sophisticated about art; who know how much of what I've written in the book is factually true.
Both Hannah and Joe live in New York City, and—let's face it—the culture they inhabit is a wild cultural topography. Maybe it's different for students in San Luis Obispo, but I bet many of them come from pretty challenging backgrounds. Hannah and Joe know their parents lived through the '60s—though I think their mom's life as an eco-activist who was in a New Hampshire jail for weeks after nonviolently demonstrating against the Seabrook nuke plant rightfully holds a more honorary position in their imaginations.
I will add this: My book and my readings are for adults, not young kids.
NEW TIMES: So much of contemporary poetry seems to be purposefully obfuscating and difficult, yet the work in this book is very accessible. Sure, there were moments when I felt adrift in your words, but terra firma was always within sight; those feelings of not quite knowing what was happening were pleasant rather than confounding. As both an academic and goodtime Charlie, do you feel some struggle between writing the fashionable but impossibly opaque poems embraced by many academics and the easily accessible type of poems that readers can grasp on first read?
KEVIN CLARK: If a poem has what Lorca calls "duende," if it senses life's innate urgency, if there are layers of meaning resonating throughout it, if it moves me before I quite "get it" all, then the level of difficulty doesn't bother me. I like both Robert Frost and T.S. Eliot. That said, many of my poems are braided narratives, meaning I weave two or more stories together in them. The plot is usually accessible—and I hope readers can derive multiple implications radiating out of them.
NEW TIMES: Within your poems, you chronicle your own erstwhile education as a poet (Crazy life experiences! A run-in with James Dickey!) as well as your early teaching career (Facing off against a shattered Vietnam vet). You also explore your circuitous path toward lasting love. In short, your title—Self-Portrait with Expletives—is indeed truth in advertising. Draw an analogy for me about what sort of self-portrait this is: Van Gogh with missing ear? Rembrandt in candlelight? Cubist Picasso? The impasto realism of Lucian Freud?
KEVIN CLARK: I love this question. In fact, I'm betting I won't be asked a question like this again any time soon. Part of me wants to say I'm a Jersey transplant who lost his accent to poetry. Truth is, and I know this sounds like a cliché, when I was a kid I wanted to play first base for the St. Louis Cardinals. Didn't work out. So maybe I'm "a would-be Stan Musial with a pen."
NEW TIMES: Finally, you've won prizes and awards before, so what does the Lena-Miles Wever Todd Poetry Series award mean to you and your career?
KEVIN CLARK: It took me years and more than 200 submissions to get my first book published, but only one year and something like twelve submissions for this one. I can't tell you how grateful I am for Susan Ludvigson and Kevin Prufer at Pleiades Press and their judge Martha Collins for finding something in my work that spoke to them and then choosing my manuscript out of the 600-plus that came in to the Wever Todd contest last year. Recognition appeals to ego and vanity, I know, but it can be artistically liberating as well. The prize means I can move on to the next poetry project with sustained confidence. I'm doing just that. Gotta say, I feel pretty buoyant.
Glen Starkey is a New Times staff writer and a Cal Poly in San Luis Obispo English lecturer. Contact him at gstarkey@newtimesslo.com.