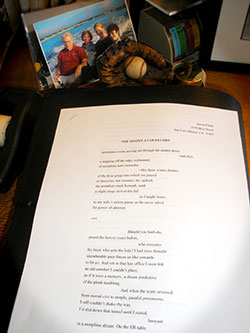 An old and venerable institution supporting poets and the art of poetry; the site provides news and information on readings, publications, contests, and other items of interest to poets.
The Rainier Writing Workshop is a community of talented, mature, and independent writers working in an atmosphere in which each writer's work deepens and flourishes. In this innovative three-year, four-residency program, students can earn an MFA in poetry, fiction, or creative nonfiction—or a combination of genres.
Publisher of Poetry magazine, the Poetry Foundation celebrates the best poetry and continually seeks out fresh voices.
An organization of virtually all the graduate-level college writing programs in the country and a source of information on many of them; if you'd like to purchase The AWP Guide to Writing Programs, contact them through this site; also offers much information on the world of literature and writing.
Publishes humanities texts (e.g., poems by W.H. Auden) that are in the public domain.
A website for fine new poems and essays about poetry; also contains poetry news; updated daily.
A longstanding organization dedicated to helping writers write and publish. Contains many other helpful links, including information on contests and magazines seeking submissions.
Assists writers who teach, providing extensive information about how to teach writing on all levels as well as numerous publications.
Publishes fiction, poetry, essays, and artwork from many good national literary magazines, including The Literary Review and Conjunctions.
A literary organization based in the Netherlands, Poetry International aims to present quality poetry to an international readership, encouraging poetry translation, stimulating the international exchange of knowledge about poetry, and facilitating an international community of poetry readers.